Oculus Go is VR for the masses, not the classes*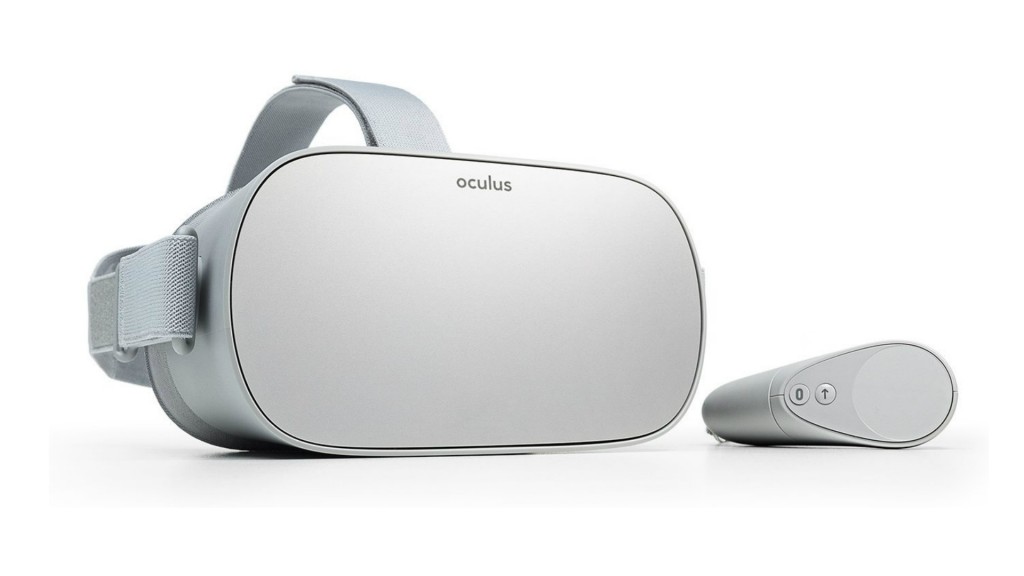 (*paraphrasing Jack Tramiel's philosophy at Commodore International which IMHO brought us mass scale home computers)
The Oculus Go has launched, and quite possibly widespread adoption of Virtual Reality has launched with it. Lets ignore the online debates as to whether 3DoF VR devices are not real VR, the fact is if you do consider this VR, then it's one hell of a package at one hell of a price.
The Oculus Go is a fully standalone mobile 3DoF VR headset with a 3DoF hand controller. So much care has been put into the quality of it's sensors, screen, optics, ergonomics, audio and performance that I honestly can't believe the price starts at US$199 (for 32GB). When I've sold Samsung + GearVR solutions (the closes relative to the Oculus Go) the price has been over US$800 each. That brings the risk and cost of VR down considerably.
On a simple cost proposition, if your school wanted to spend $10K on VR, instead of getting 12 headsets now they get 50 ! That's 50 ! For an average classroom of 30 students, you can deck out a full class for $6K (vs $24K). Wow.
On a simple hardware proposition, we finally have a fully standalone VR system that you can quickly throw on and immediately be immersed in VR – No phones to fall out, or headphones to plugin. Wow.
Video Review
If you want to watch my video review of the Oculus Go for Enterprise and Education, watch it below.
Or skip straight to the conclusion.
Comparison with other VR systems
The VR device market is heating up with many offerings, which fall into three categories: Desktop (Tethered) VR, Standalone VR, and Mobile VR (requires a mobile phone).
Depending on what you want to do in VR, the comparison tables below show the various capabilities and points of difference.
Desktop VR (requires a PC/Laptop)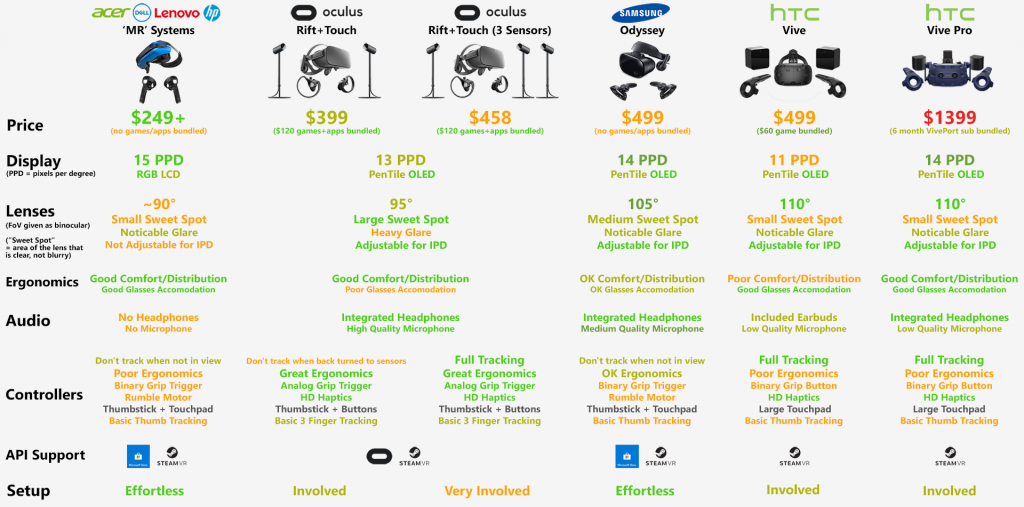 ref: https://www.reddit.com/r/virtualreality/comments/8hg9eu/comparison_of_standalone_vr_systems_updated/
Standalone VR (no PC/Laptop required)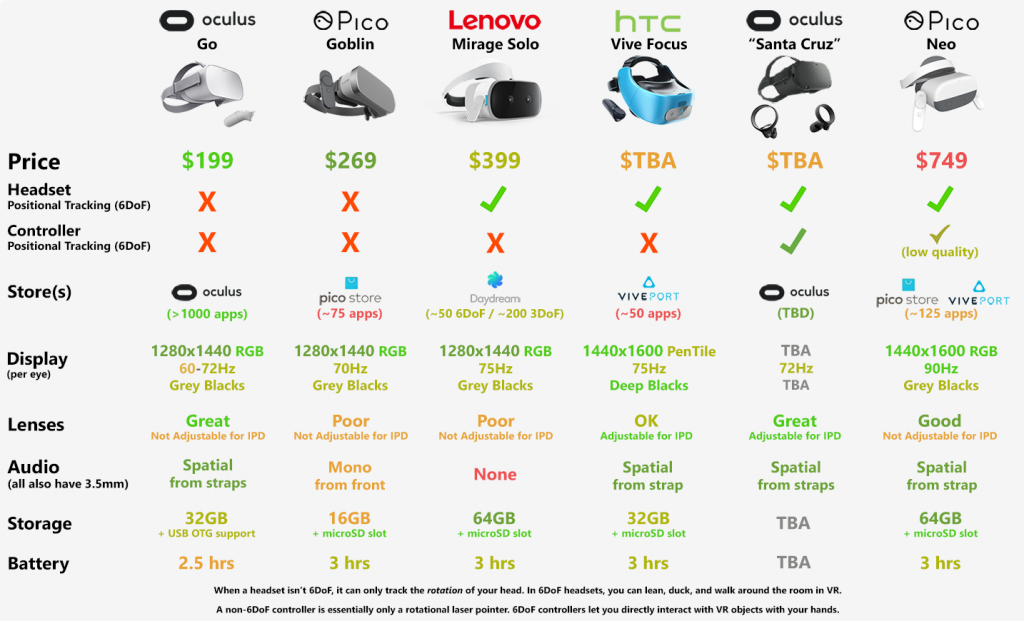 ref: https://www.reddit.com/r/virtualreality/comments/8hg9eu/comparison_of_standalone_vr_systems_updated/ 
Mobile VR (mobile phone required)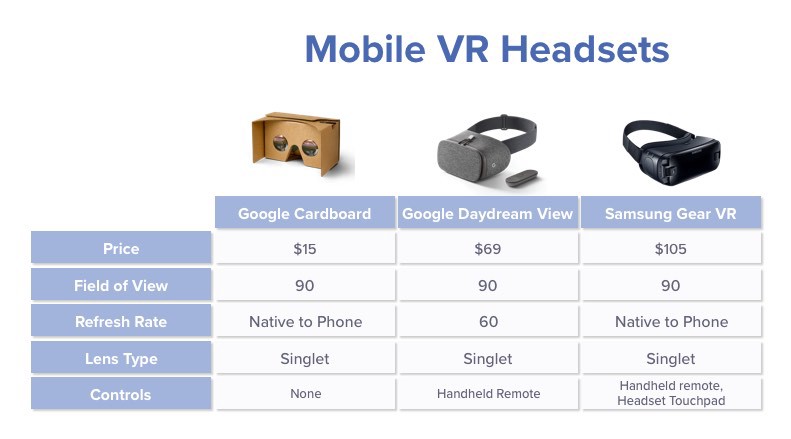 ref: Medium: A Guide to 360º Virtual Reality: Part 2 -Headsets
Is 3DoF VR appropriate for Enterprises and Schools?
So the first question you probably want to ask is whether the 3DoF (three degrees of freedom – where you can rotate your head but can't move it's position in space) VR class of devices (of which Oculus Go is the latest arrival to a scene of many 3DoF offerings) useful for your enterprise or your school classroom?  Some will claim that without 6DoF (rotation and position) you can't get fully immersed and reach "presence" nirvana. There is some truth to this, as many simulations and experiences I've worked on have targeted desktop VR with full 6DoF head and hands – such as with Oculus Rift, HTC Vive and Windows Mixed Reality.
However, I think there are many immersive experiences that can work well with 3DoF VR (with and without a single 3DoF hand controller). When you look at the amount of 360 panoramic video being captured these are presently 3DoF only any way. Or just look through the app store at the experiences available on Google Cardboard to see the breadth of what is possible on a 3DoF system.
It's not just the users experience within the headset that is important, it's also how well it can be used in a busy work place scenario or classroom. Whilst 6DoF is great for the user to move around, in the room where they are using it, it's not so great if there is limited space to move (eg: at or by a desk) or if the device is using inside-outside tracking (like with Windows Mixed Reality), but the room is full of people moving and the tracking starts to lose stability. So in these cases a more limited but reliable 3DoF experience is actually more desirable.
Is the Oculus Go appropriate for Enterprises and Schools?
So assuming 3DoF VR is suitable for you, then the question is how well suited is the Oculus Go?
The short answer is "Yes… but sadly it lacks key Enterprise control features".
The caveat is because the Oculus Go is targeted at personal users, and not the enterprise (or schools). it doesn't include any enterprise management such as locking down features, app installation or app kiosk mode. This means whilst it is wonderful hardware, it means your users (whether employees, customers or students) can't be locked into your app(s) and can easily (and accidentally) exit them and end up in the Oculus Home experience.
But below I will walk through the key areas of using Oculus Go for enterprise and classroom and talk about ways to mitigation the issues.
1. Pricing and Purchasing
You can purchase the Oculus Go Consumer version right now directly from Oculus's website in 32GB (US$199) and 64GB (US$249) + extra GST/VAT charges for outside of the USA, or from Amazon. There is a current limit of 3 of each per order, so if you wanted to buy 30 you'd need to submit 10 orders right now! If you are in the US, you can also walk into a retail store like Best Buy.
So far shipping world-wide from Oculus has only been a few days in my experience.
Oculus have also announced the Oculus Go Business Bundle at US$299 for preorder- which is basically the 64GB and two facial interfaces, a worldwide charger, expanded warranty & licensing terms, and dedicated service. Business Bundle pre-orders are expected to start shipping mid-July.
Enterprise Readiness Pricing and Purchasing Summary: 8/10
Significant Blockers:
Pros:
All-in price for the standalone Oculus Go 32GB (US$199) is significantly cheaper then the closely spec'd GearVR + Samsung S8 (US$800+). 30 Oculus Go's would be US$6K vs 30 Gear VR's at US$24K.

Repeat US$199

Repeat US$199 (in case you missed it)
Cons:
Business Bundle not yet available
Limit of 3 of each headset per order makes business buying cumbersome
2. Hardware
Having used almost every VR system in various deployments, after 2 days of using the Oculus Go I have to say it is an amazing piece of hardware. The ability to pick it up and be in VR within seconds is a killer feature, it removes so much of the friction involved with handing out a comparative GearVR or Daydream mobile solution.
Your users will want to put it on!
The quality of the hardware and how good is looks makes it inviting to anyone that sees it (versus other headsets which look too technical or fragile and people don't want to wear). This is a significant thing when you have them in your boardroom, training facility or classroom.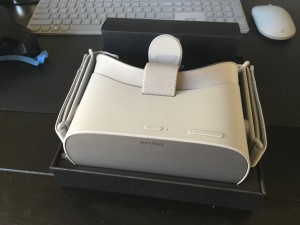 (Nothing says Enterprise like using Microsoft's surface keyboard and mouse color palette!)
I've used almost every VR headset as the user and the facilitator, and one area of friction is the initial fitting of the headset on to your face. IMHO the Oculus Go has the best and most approachable system, it may look like a simple set of straps, but its so easy to pull it over your head with the bottom strap (put it over your eyes first) and as you pull the strap back the upper one lets you feel it is confidently on your head. Without earphone speakers to worry about pushing on your ears. A very well executed design: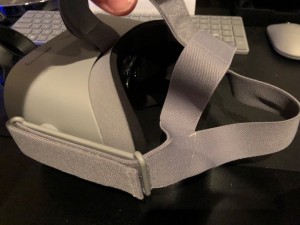 The fact that is standalone means there are no phones to insert (or fall out), no phones overheating, and discharging at different rates because of Android background tasks for the phone.
Charging is simple
The Oculus Go just needs to be plugged in to charge (via micro usb – included) and you can easily see it's charging status (charging, charged, running) on the LED status on top.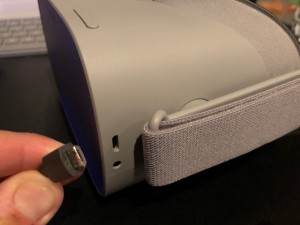 It's a pity it's not designed for some kind of dock. But I know many enterprises and schools that use cables for their devices. I suggest for a bundle of devices to use a UDB charging station like this: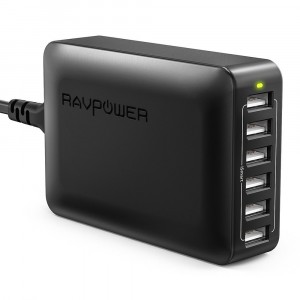 Pity about the Home Button for Enterprise Users…
One let down for enterprise is the home button being a single tap to pause the current experience and exit to Oculus Home. It is far too easy to press home (especially when users need to press and hold it to calibrate the forward direction of the 3DoF controller). That means users in enterprise or education could easily exit the current experience.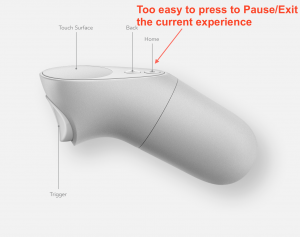 Enterprise Readiness Hardware Summary: 8/10
Significant Blockers:
Pros:
Fully standalone unit (no mobile phones falling out here) put it on and in VR within seconds
Beautiful and solid construction – unlike other headsets it's inviting and will make it easier for users to want to try it
Easiest headset to put on ever (and stretchy to fit without having to adjust straps)
Extremely comfortable to wear and straps adjustable to different head sizes (eg: children)
Easy to charge (micro-USB plug on the side) and see when it's charging, charged or running via a status LED
Big Field of View with clear optics
Precise 3DoF tracking
Easy to clean
Goes to sleep automatically (even in a dark room – combination of light sensor and no movement)
Built in audio is clear and personal. You won't need headphones unless the room is very quiet.
No overheating (like the GearVR)
Cons:
3DoF headset and 3DoF controller (but as I wrote above 6DoF not necessarily workable in large groups)
Unusable without the controller
It's easy to confuse the controller's back and oculus home buttons (I wish they dipped in the home button).
No dock offering (and hard to see how one could be made)
You'll have to do your own asset tagging to match your headsets with their controllers
3. Platform
The Oculus Go runs the Oculus platform (no surprises there), but it is important to note that even after the major update last November, it is very obviously targeted at the personal user – not the enterprise or school.
Enterprise Readiness Platform Summary: 3/10
Significant Blockers:
Every time you put in on you have to calibrate forwards on the "Enter VR" screen, which involved learning to hold down the Oculus Home button in a long press.
(why do I consider this a blocker? I understand why they did it due to the 3DoF controller – but it means every time you put a new user into the Oculus Go you need to on-board them with how to long press the Home button)
You need to pair the Oculus with the Companion app on iOS or Android
You need to always be logged into a valid Oculus or Facebook account
No Kiosk mode (to lock you into an app) so you can far too easily tap the home button and pause the running app)
See more below.
No Feature lock down in Oculus Home – a user can exit the app and freely access all areas (including the store and settings – eg: to turn off wifi, edit the accounts avatar)
Pros:
It can operate in offline mode (which also is a way to hide the app store)
Built in apps like Oculus Gallery make it easy to show videos (incuding 360, 360 stereoscopic, 180, etc)
Fairly easy user interface
Looks like no limit to the number of headsets paired with a companion app (may need further verification)
Cons:
No ways to externally launch or control apps, or just see whats running
Mitigations: 
Right now you'll have to on-board your user on how to calibrate forward to enter VR, and explain not to tap the home button, and if they do, to select Resume to re-enter the app.
You'll probably pair all your headsets with a single Oculus account
You might want to run in offline mode to avoid the store appearing, and/or use a firewall to block it if you need wifi (eg: for access to a networked video library, or multi-player experience)
4. No Kiosk Mode
This is a dot point in the platform review above, but it's worth a separate discussion.
Without a kiosk mode to lock apps it is very easy with the Oculus Go for the user to pause and exit the experience you have them in. Now some apps (like our SpaceTime) have separate apps to monitor users, but none of them can help a user to re-enter the app if they leave or pause it.
It's a more significant issue then on the GearVR because the home button on that controller was depressed down and far less likely for the user to tap it in error, but on the Oculus Go button it's just below the Back button and they feel quite similar so it seems easy to tap it in mistake (possibly a design choice might be to avoid using the back button if you can control the app). With the Oculus Home button
Ideally Oculus would add some kind of Kiosk mode (like Apple did in iOS).
Enterprise Readiness Platform Summary: 0/10
Mitigations:
Right now you'll have to on-board your user and explain not to tap the home button, and if they do, to select Resume to re-enter the app.
Find some way to jail break the Oculus Go (if you find one let me know!)
5. Asset Management
If you are managing a fleet of devices you need to be able to identify the devices easily – this is especially important with the Oculus Go as you need to manage it via a companion app. Happily the Oculus Go has a unique serial code displayed on the left hand side (behind the head strap), that corresponds to the same serial code displayed in the companion app. This makes it quick to know which headset you are managing.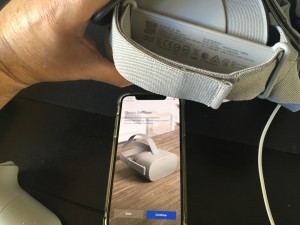 No such asset identifier on the controller, for that you'll want to add your own physical asset tag sticker.
Enterprise Readiness Asset Management Summary: 9/10
6. Setup and Installation
The unboxing and initial setup to install a new Oculus Go was relatively straight forward.
Enterprise Readiness Installation Summary: 5/10
Significant Blockers:
Requires the companion app on iOS or Android to perform setup
Pros:
Unboxing is quick and straight forward
Comes with an AA battery for the controller (although you should replace it with a rechargeable AA battery)
Identification on the outside of the headset speeds up setup
Cons:
A long (10 min?) process that you can't skip
USB cable only – but you probably want to buy USB charging station solution any way.
7. Built-in 360 viewer
One great app built into the Oculus Go is the fantastic video player: Oculus Galleries.
With Oculus Galleries you can play not only standard videos, but also 360, 360 stereoscopic and even 180.
You can play these videos from the internal storage, a DLNA network media server, or even from the companion phone.
So if you just simply want to use 360 videos in your training then you can do it our of the box. It's not as streamlined as a custom app, but it is a quick way to start using 360 video.
Enterprise Readiness 360 video Summary: 10/10
8. Custom Enterprise App Support
An important aspect to many enterprises and schools is how to load on apps that are not released on the store.
Enterprise Readiness Custom Enterprise Apps Support Summary: 3/10
Significant Blockers:
No MDM (Mobile Device Management) tool to auto install and manage apps
Pros:
It *is* possible to side load custom apps
Lots of existing content in the Oculus Store all work fine with the Oculus Go (thanks to GearVR)
OSIG signing is gone !
Cons:
Complicated way to side load enterprise and custom apps, with poor integration into Oculus Home to launch them
Side loading Apps
Lets say you've built your own app, or have one that is not available in the store – how can you install it onto the Oculus Go?
I have found 2 ways, both of which have pros and cons:
Via USB
Via Oculus Store Preview feature
 Side load via USB
Oculus Go apps are 100% compatible with the existing GearVR format, which is an Android .APK file (which is not surprising as the Oculus Go is the equivalent of a Samsung S8 phone hardware with GearVR sensors).
Of significance is the OSIG signing process (which Samsung required for GearVR) is no longer required. This means (at least at present) you don't have to sign your APK for every device.  That step made deploying GearVR's into enterprise extra complicated.
I verified this by creating a basic app in Unity3d 2017.1, used the default scene, enabled VR (Oculus) in settings, set the Android API level to 19 and built an APK. Then followed the steps below to install it onto Oculus Go (The steps work on both Mac or Windows).
Make sure you have the Android "adb" tool  (It comes with the Android Platform Tools )
Make sure you account is an Oculus account (not Facebook)
Sign into https://developer.oculus.com/ and press settings cog, then manage, and create an organization (which activates you a developer account)
Go to the companion app, and go to settings, click on your headset, go to more settings, developer mode and press ON
Plug in your Oculus Go to USB
Open a terminal (or command line prompt) and type:
adb devices (enter)
You should see it list a device (and say "unauthorized"
Put on the Oculus Go headset, and there should be a prompt to authorize USB developer access, confirm (check mark the don't ask again)
Go back to the terminal, re-run the command and check it says "authorized"
adb devices (enter)
To launch the app, put on the Oculus Go, go to Library, and "Untrusted Sources" tab and it shows a very unfriendly list, but in that list will be your app (with app bundle id), click on it to launch the app.
Note: Sometimes the "Untrusted Sources" tab disappears for me, and I'm not sure why, but going into Settings, and re-centering view brings it back.
Pros:
You can install directly without using the Oculus Store preview testflight system
OSIG signing is gone !
Works with standard Android Platform Tools adb.
Cons:
It's very unfriendly to launch the app from "Untrusted Sources" via the app name (no icon)
To enable developer mode on the device you need an Oculus account that is signed up as a developer (free)
You need to plugin the Oculus Go via USB (no over-the-internet delivery)
Install via Oculus Release Channel "App Previews"
A developer of an Oculus GearVR app can distribute it with users via Oculus Release Channels. This requires uploading the APK to the Oculus Store developer portal, but not publishing it. Instead it can be shared to the email address of testers.
Here are the "Developer" steps to follow:
Login to the oculus developer portal and click on your organization (create one if you don't have one):
https://dashboard.oculus.com/my-apps
Click on "Create New App", and choose Mobile
Enter the apps name
Get the secret and include it in the APK
Upload the APK
Fill in the store details (eg: icons, panels)
Create an Alpha release channel
Manage users and add the installers email address (it must be a valid Oculus account email address)
Here are the "installer" steps
Wait to receive an email about the app being available
Click on the accept link (you'll have to login with your Oculus account, it should be the same account logged into the Oculus Go(s))
Put on the Oculus Go and go to the Oculus Store
Scroll down (either the left category window, or the middle app list) until you get to My Previews
Click on the app icon install it (it will download and then me permanently in your Library – even if you go offline)
To run it, go to Library and click on the app icon.
Pros:
You (the installer) don't need an Oculus developer account
The app is in the Library with the icon for convenient launching (unlike the USB sideload above)
Cons:
Requires the app to be distributed via the Oculus Release Channel, which subsequently requires a developer account
Requires the app to include the Oculus SDK (and setup the secret from the Oculus portal)
The installer user must have an Oculus account (which they would any way)
Conclusion
I would say the Oculus Go is the best enterprise or education VR device to come onto the market (if you can work within the 3 Degrees of Freedom).  The hardware is almost perfect, but the lack of enterprise support in the platform lets it down. But the good news is that is a software issue, and it took Apple until iOS 5 to get decent enterprise support – so I would imagine this is most likely well under way at Oculus. There just wasn't a compelling reason for it until the Oculus Go – the enterprise and education proposition for large sets of VR devices is only now possible.
For the Enterprise and Education market Oculus needs to add:
Kiosk Mode (to lock apps into an app – effectively disable the Oculus Home tap and auto-boot into the app)
Remote app management (install, uninstall, launch an app with parameters)
Allow side-loaded app icons to be displayed in the Library (not the untrusted sources list)
Customize the Home screen to pin specific apps
Lock down Oculus Home features (eg: wifi in settings, browser, etc)
Enable user setup on a per device basis (especially setting the controller left/right handiness quickly)
Disable or manage the current user account
Remote streaming view (so facilitators can display the Oculus Go view to spectators)
Remote monitoring of battery, performance, forward calibration and general head movement levels.
and .. a Mobile Device Management server to control all the above.
But for now, we can work around this by:
On-board your users on using the controller Home button to reset controllers forward direction (and know how to resume an app if they accidentally tap the Home button)
Cheat Sheet for Enterprise/Education Deployment
So assuming you are sold on using the Oculus Go in your organization, here is a suggested process you can follow:
Acquisition:
Do bulk buy the consumer edition from Oculus's website store today.
They will arrive within days.
Each order has a limit of 3 (might be per account?) so make as many orders as you need, maybe 10 to get 30 headsets.
In mid-July buy the business bundle (for the commercial warranty)
Buy a USB Charge Station(s) to avoid having so many wall chargers.
Buy AA rechargable batteries for the controllers and a AA battery recharge station(s).
Buy an Asset tag maker to keep your headset and paired controller together.
Consider buying a double hook coat rack to hang on the headset and controller together in pairs
Deployment:
Have a WiFi network ready for the devices to use during deployment (and for use during operation)
Create a new email address within your organization just for the Oculus Go management account, eg: oculus-admin@acme.org
Register a single Oculus account (not Facebook) with your email to manage all your Headsets, use a name such as to reflect your organization "ACME" which will appear in each headset.
Login to https://developer.oculus.com/ and create an Organization to active yourself a developer account (useful if you side load custom apps or need developer mode).
Download the Oculus app onto an iOS or Android phone and sign-in with your account.
Unbox the Oculus Go packages, add battery to the controller, and asset tag the matching pair.
Allocate 10 minutes to setup each Oculus Go –
You have to pair it with the app, pair the controller, watch the whole Health & Safety video, and start using Home
Start charging the headsets
Setup:
If you are using content from the Oculus Store – install using the Oculus Store in Oculus Home.
Note: You can also buy via the companion app.
If you will side load apps:

Best scenario is to use Oculus Store Release Channel, so that the app appears with its icon in your Library
(see instructions above)
Second scenario is to use USB side loading – the app will appear in the Untrusted Sources list.
(see instructions above)
Onboarding new users:
Health & Safey
Explain the health and safety of VR. I usually suggest if the participant has any issues to close their eyes and raise their hands. (This may be lessened now that the Oculus Go doesn't need headphones and it is easier and safer to remove by the participant).
Explain to them when they put on the Oculus Go that they will see an "Enter VR" screen. This is a good opportunity to make sure the text is readable and not blurry.
Hand Controller Calibration
Explain to them the hand controller, and that to "Enter VR" they need to hold it forward (steady) and hold down the Oculus Home button.
(If you are using an app that you can set left/right hand operation do that for them, otherwise for now you are stuck with probably right-handness).
Headset and Hand Controller Use
Explain the volume buttons and the mic (if being used).
Explain the buttons and use of the hand controller.
In particular the dangers of the single tap Oculus Home button which will pause the current app and take them back to Oculus Home – show them how to return back to the experience.
Headset On
Show them how to put the headset on (with and without eyeglasses)
Play the experience
Finally let them experience learning in a new immersive way.
Thanks for reading this far, and now it's time to start getting Oculus Go into our training and education.. go go go…